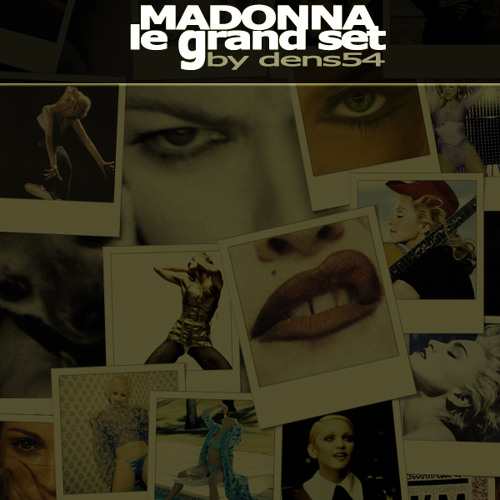 Bien es sabido el buen hacer del DJ Dens54. En el año 2006 realizó "Madonna le Grand Set" que es imposible dejar de pasar. En su día fue publicado en nuestro anterior blog (madonnaunusualmpap) pero, ahora os lo volvemos a acercar pues, DJ Dens54 lo ha vuelto a poner a disposición de descargas y es una oportunidad que no debéis perder.
Se trata de una remezcla de 22 minutos de duración con el siguiente contenido:
Impessive Instant/Music/Nobody Knows Me/Everybody/Impressive Instant/Fever/Nobody Knows Me/Impressive Instant/Fever/Vogue/Impressive Instant/Mother & Father/Live To Tell/Nothing Really Matters/Like A Prayer/Push/Isaac/Like A Prayer/Sorry/Sky Fits Heaven/Fighting Spirit/Live To Tell/Fighting Spirit/Die Another Day/Papa Don't Preach/Die Another Day/Frozen/What It Feels Like For A Girl/Papa Don't Preach/What It Feels Like For A Girl/Skin/Express Yourself/Music/Get Into The Groove/Deeper & Deeper.
Comentaros que DJ Dens54, en la mayoría de las ocasiones, no reduce sus mezclas o remezclas a ser una concatenación de algunos temas del artista que trabaje en ese momento sino que, gracias a su buen conocimiento musical y de la técnica del DJ, es capaz de retrabajar cada tema y crear nuevos loops, variaciones de tonos, compases, etc... Por esa misma razón sus remezclas suelen tener, además del aliciente de ser de muy buena calidad, un toque excepcional de originalidad dando la sensación de oír los temas por primera vez.
En este "Madonna le Grand Set", convergen temas de Madonna hasta el año 2006 pero obviamente, tratados, todos ellos, desde la perspectiva única y original del fantástico DJ Dens54.
Os podemos asegurar que os gustará a todos/as, no sólo por su contenido sino, por toda la calidad que desprende esta remezcla. No hace falta escribir más, a continuación tenéis el reproductor y el enlace de descarga de este maravilloso set.
DISFRUTAD!!!!